Looking for that ideal gift? Would you like to bring the life back into your damaged or old photos? Or do you want to enhance some of your existing photos by perhaps changing backgrounds or merging two or more pictures into one?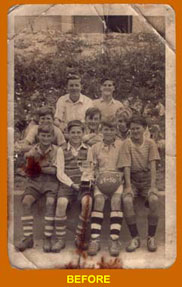 If so, then VistaFix is the answer. With prices for Professional Photographic Restoration starting from only £9.50 (USD $15)+ P&P including 6" x 4" print, you won't find a better opportunity to preserve that special moment forever.
Place the mouse over the image on the right to see the restored version.
Our services include:
Red Eye Removal
Scratch Removal
Stain Removal
Repair of Tears or Bad Creases
Colour Balance
Convert to Greyscale or Sepia
Photo Flipping
Colorization
Rebuilding of Badly Damaged Areas
Adding or Removing Text (see Legal)
Removal of Unwanted Persons or Objects
Blending of Two or More Photos into One
Hair and Eye Color change, Digital Makeover or
Digital Surgery
Convert Photos to Paintings or Sketches
& Many More Special Effects and Services
Your original photos are scanned at high resolution and remain safe and untouched. These will be returned to you along with your restored picture(s).
Please view our range of services to see which is best suited to your needs or contact us for a quote or more details, either by telephone or email.
Our address and telephone numbers can be found on the contacts page.